Financial Resources
Read below to learn more about which financial resources you can use to fund your study abroad program.
The most common question MICA students ask about studying abroad, aside from program selection and academics, is "How do I fund my study abroad experience?" Well, the answer is simple – through the MICA Home School Tuition Policy, which covers existing financial aid and scholarship opportunities.
Under MICA's Home School Tuition Policy, institutional merit and need-based and federal financial aid through FAFSA is portable for semester study abroad. With the exception of the federal Work-Study Grant, this means that pretty much all of a student's financial aid award-types can be used to pay for the cost of their study abroad experience.
Students who do not already receive financial aid should consult with MICA's Financial Aid office to review their options. The Financial Aid office can help you to complete and submit the federal "FAFSA" form in order to apply for financial aid.
To provide further clarity, here is a breakdown of how study abroad is invoiced – keep in mind, you will receive 2 invoices: 1 from MICA and 1 from the program you select:
Invoice no. 1: Prepared by the MICA Office of Student Accounts
Assuming that the student has no prior outstanding charges on their student account, the following breakdown of study abroad-related charges apply. All students must be in good financial standing by the end of the semester in which they applied. Good financial standing is defined as not owing MICA more than $500.

If a student is not in good financial standing during the semester in which they are applying to study abroad, they are encouraged to discuss payment options through the Office of Student Accounts to reduce the amount owed. Failure to meet this objective will jeopardize a student's ability to go abroad.

Here's a breakdown of how students will be billed for their study abroad program costs:
The cost of MICA's tuition paid directly to MICA
Any nominal, outstanding amounts owed from the current or prior semester (if any)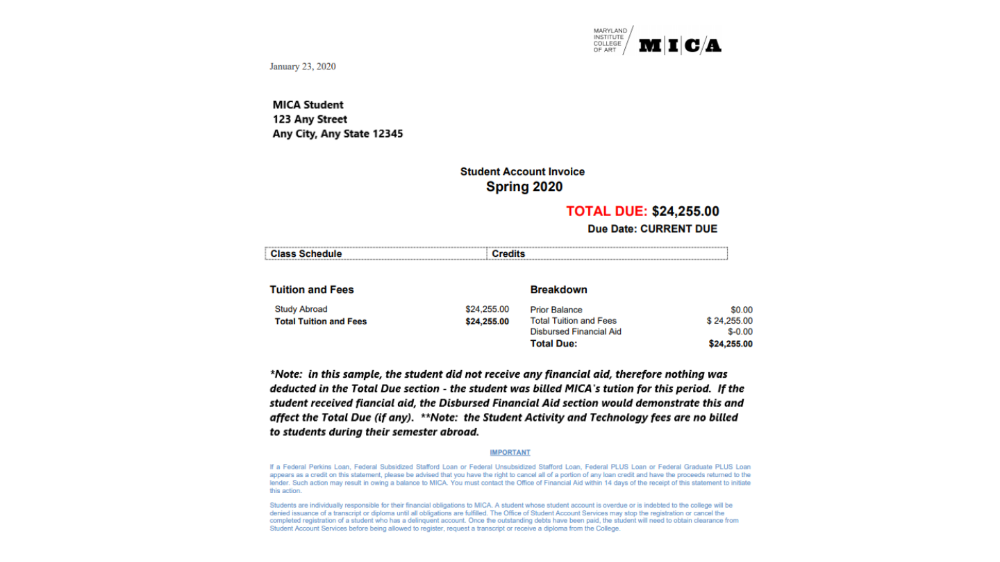 Students will not be billed the MICA student activities and technology fees during their semester abroad.

Invoice no. 2: Sent to the student directly from their selected program provider or exchange program
Since students pay MICA's home school tuition amount, and are billed directly by MICA's Office of Student Accounts, they will receive a 2nd invoice from their respective program. The following fees are often associated with this 2nd invoice:
A non-refundable deposit to secure a place in the program
Non-tuition program fees
Room and board
Programming fees, i.e. studio access, technology use, and related program activities and excursions where applicable

Additional Costs that Students Should Consider
Aside from the aforementioned fees, students are responsible for the following out-of-pocket fees:
Airfare
Passport, visa, residency fees
Books, course supplies
Local transportation and travel
Communication tools, mobile subscriptions
Others...
Your MICA Financial Aid Award Package and Seeking Scholarships for Study Abroad
The Office of International Education requires that students complete a study abroad budget form along with their application. During the application process, students will have an opportunity to quantify the various costs associated with their future study abroad experience on paper, and to discuss them with their financial aid adviser.

The question students should be asking during this meeting might include "How does study abroad affect my MICA financial aid award package", and "If the cost of study abroad exceeds my budgeted amount to attend MICA, what other options do I have?" To answer the 2nd question, keep reading below to learn about scholarship opportunities.

In addition to institutional and federal financial aid resources, we urge you to explore the sections below on the various forms of scholarship funds available to students specifically for study abroad. The Office of International Education encourages all students to take advantage of these opportunities to help make study abroad affordable.

MICA Institutional Aid - Semester Study Abroad Only
| | |
| --- | --- |
| Scholarship Name | Information and How to Apply - Students May Apply to Only 1 MICA Institutional Scholarship |
| The Brown Family International Study Abroad Grant (ISAG) | |
| The Roberts Family Study Abroad Scholarship | |

U.S. Government Scholarships
| | |
| --- | --- |
| Scholarship Name | Information and How to Apply |
| USA Study Abroad: government-based website offering multiple scholarships and resources for planning and preparing a successful experience abroad, and learning about the value of international education. | |
Scholarships Supported by Professional Organizations in Education Abroad
| | |
| --- | --- |
| Scholarship Name | Information and How to Apply |
| NAFSA-Sponsored Scholarships: Association of International Educators is the world's largest nonprofit association dedicated to international education and exchange, working to advance policies and practices that ensure a more interconnected, peaceful world today and for generations to come. | |
| The Fund for Education Abroad: The mission of the Fund for Education Abroad (FEA) is to provide scholarships and ongoing support to students who are underrepresented among the U.S. study abroad population. FEA makes life-changing, international experiences accessible to all by supporting minority, community college, and first-generation college students before, during, and after they participate in education abroad programs. | |
| Goabroad.com: a web-based resource for a variety of scholarships | |
| Diversity Abroad: Diversity Abroad was founded in 2006 with a simple vision, that the next generation of young people from traditionally marginalized and underrepresented backgrounds be equipped with the skills, experiences and networks to thrive - personally, academically and professionally - in our 21st century interconnected world and global workforce. | |
| IIE Generation Abroad: IIE Generation Study Abroad Travel Grants were made available for U.S. students from a broad range of backgrounds to make it possible for them to participate in academic, internship or service-learning experiences abroad. | |